In the spring of 2017, we lived in Canggu for a couple of months. We absolute adore Canggu, and we loved staying there, but we also wanted to see more of the island and with only a few weeks left of our time in Bali, we decided to pack up our stuff and go on the ultimate Bali road trip. We wanted to see East, West, North, and South – and of course, the beautiful middle.
The beauty of Bali is that the island has a little bit of everything. Beaches, mountains, waves and lakes, rice fields, palms tress, waterfalls, and a lot of amazingly friendly locals. If you are thinking about doing the same, we only have one piece of advice: Do it. You won't regret it! Oh, yes – and bring a poncho if you don't want to get soaked.
⇟ SAVE THIS POST FOR LATER ⇟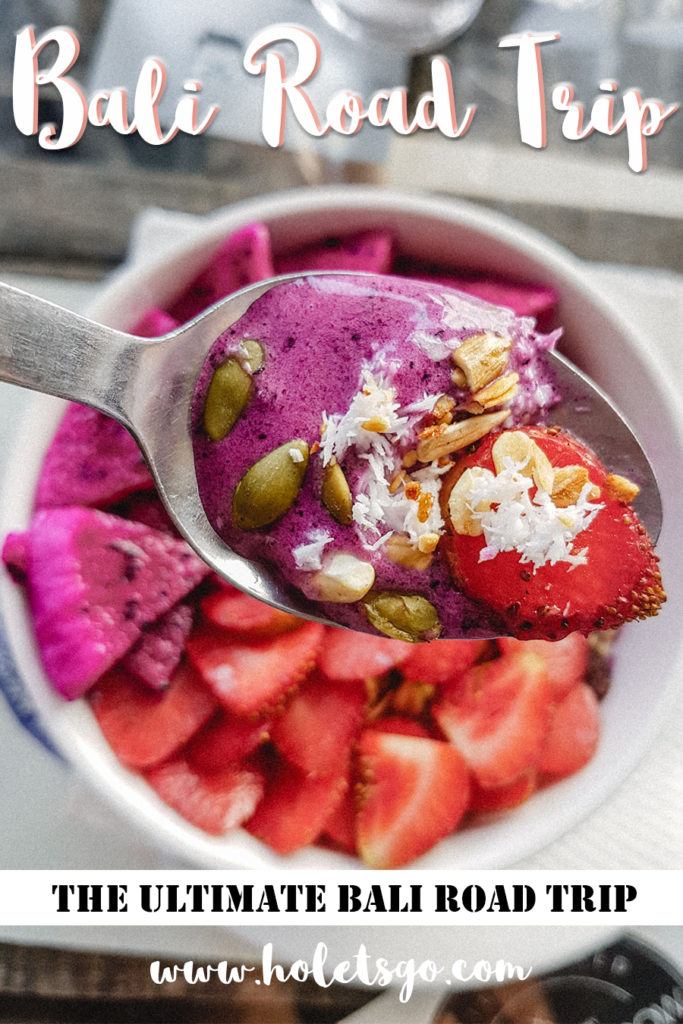 Day 1 was such a beautiful day! We woke up and decided to leave a few days early on our road trip, so we packed up in a hurry and then everything went wrong and we almost didn't go. But we did, and we had the most awesome day driving from Canggu and North to the Jatiluwih rice terraces, Lake Beratan and Lake Bunyan, before we finally made it to our homestay for the night, in the middle of the mountains!
On the second day of our Bali Road Trip, we explore the western, less touristy, part of Bali. We drive along the coast, visit the amazing Melanting Pulaki Temple, we drive to Gilimanuk on the western tip of Bali and to the little town of Pemuteran in the northwest corner of Bali.
The best day and the WORST night! Day 3 of our Bali road trip was eventful! And, not gonna lie, at one point I just really wanted to give up and go home. Day 3 started in Pemuteran, and then we went East where we found a "Funtastic land" and the beautiful Singsing Waterfalls. After that we drove to Lovina beach where we made the WORST decision ever.
Day 4 was hard, guys! We left Kintamani and our less-than-perfect homestay first thing in the morning and drove down to the foot of Mount Batur. The area is absolutely stunning so we stayed there for a few hours before we hopped on the scooter and headed out to the coast – but if only it had been that easy. At one point we were standing on top of a mountain unable to go back the way we came and unable to move forwards without breaking our scooter. So what do you do? You hope someone will come and save you!
Day 5 and 6 of our Bali Road Trip! We started in Amed and had to drive through no less than three mountain road rivers before we finally gave up on our beach plans and headed to Ubud! We went to see the Tegalalang rice terraces and the art market and had a lot of delicious food because that's something you HAVE to do when you're in Ubud!
Day 7 of our Bali road trip was beautiful and sunny so after seeing the famous Elephant Cave in Ubud, we headed to the beach town of Sanur to get a little tourist chill time before the last day of our road trip (which is going to be pretty great, by the way!).
Save the best for last, they say – and we did! The Southern part of Bali is insanely beautiful, and on the last day of our Bali road trip we visited some of the best spots! We went to the High Cliff at Melasti Beach, which is one of the most amazing viewpoints I've ever seen, and from there we drove West to the famous Uluwatu Temple. A few kilometres North of Uluwatu Temple there's a small, but beautiful, hidden beach called Suluban beach. This was one of my favourite days of our entire Bali road trip! And that says a lot.