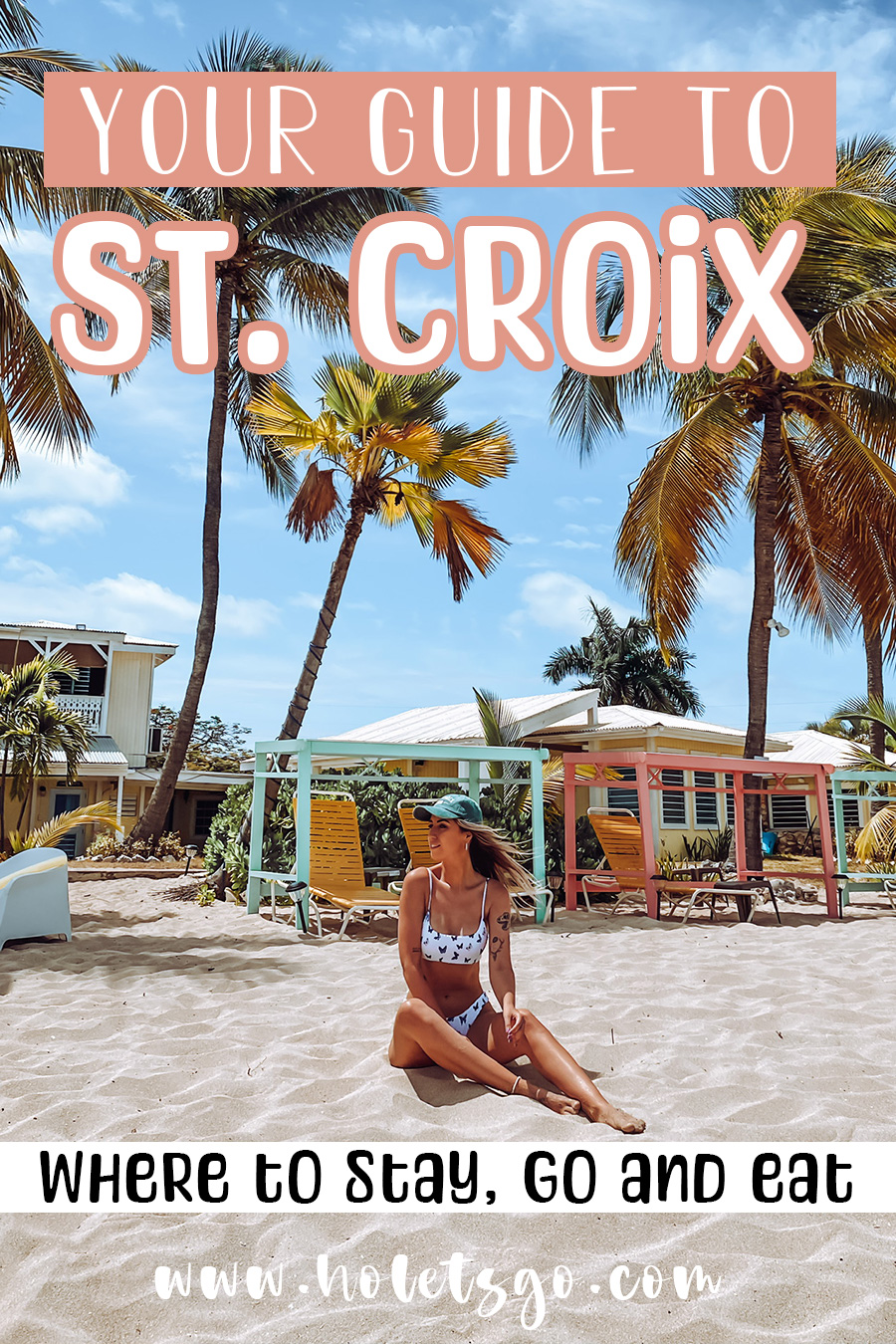 The US Virgin Islands is a magical place, and the paradise island of St. Croix is no exception. In this post, you'll learn everything you need to know before your trip to St. Croix, so let's get started.
What do we think about St. Croix as a holiday destination?
Is St. Croix worth visiting or not? You've probably asked yourself this question. There are so many islands in the Caribbean so why choose St. Croix for your next holiday?
St. Croix is a great destination to visit if you're interested in history. The island has a lot to offer in terms of both nature and history, but as with all places St. Croix is not perfect. The island has a lot of pros (just look at the pictures!), but there are a few cons that we'll have to address before sending you off to paradise.
The main one is that St. Croix is an expensive destination. As a US territory, some of the prices resemble US prices, but because the island is so remote a lot of things are way more expensive than they are on the mainland. One noticeable exception is the rum. The rum is both cheap and good, and it may make you forget that you don't normally enjoy paying 8 dollars for a bag of chips.
The cities are small and dining out options are limited, but it all adds to the island charm.
The beaches, the nature, and the Caribbean weather are definite pros, and we'd definitely recommend visiting St. Croix at least once in your life. But bring your big wallet 'cause it'll cost ya!
Where to stay (and eat) on St. Croix – in our opinion
Where to stay in Frederiksted
There are two main cities on the island of Saint Croix – Frederiksted and Christiansted. We stayed in the
smaller of the two, Frederiksted, which is located on the west end of the island.
Frederiksted is also known as "Freedom city" because it was the place where the Danish Governor General Peter Van Scholten read the proclamation abolishing slavery in 1848.
We stayed at this beautiful place called Cottages by the Sea . It has one of the best beaches on the island, and the atmosphere there is so amazingly peaceful.
It is only a 15–20-minute walk from the center of Frederiksted, and you can even borrow bicycles for free. Because food on the islands is expensive, having a little kitchen comes in handy. The room we stayed in was 185 dollars a night, and we absolutely loved it. If you want a room tour, check out our video from Frederiksted!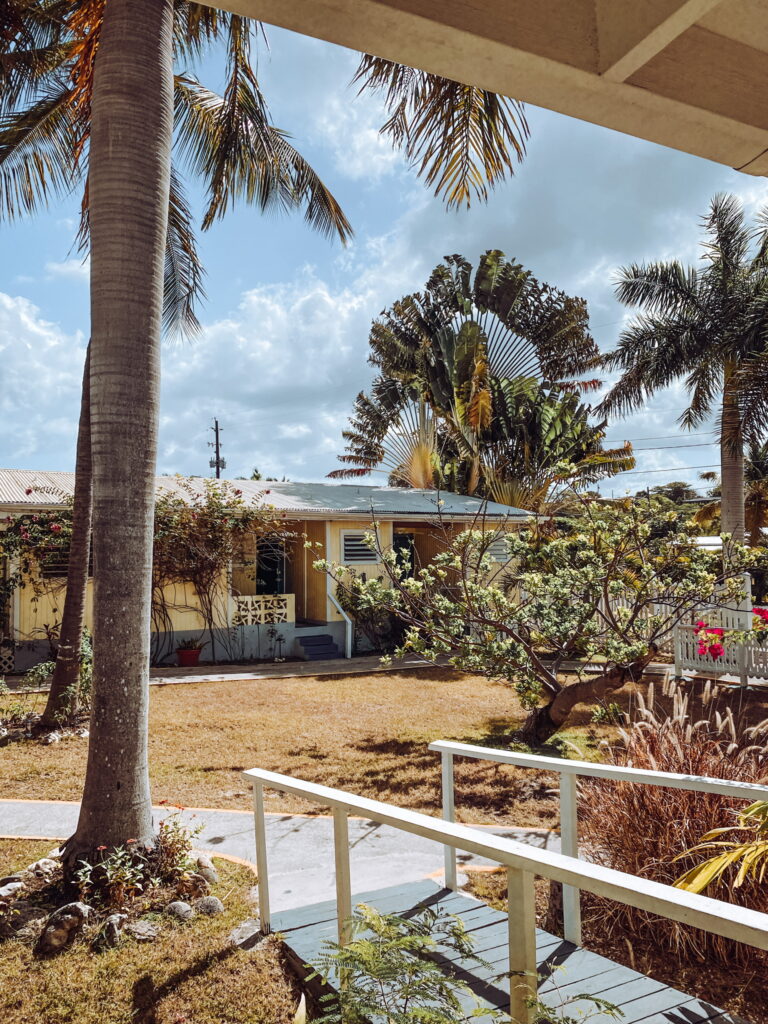 Where to eat in Frederikssted?
Frederiksted is a small town with few dining-out options. In fact, there are only a handful of restaurants in the town. We found a café called Polly's At the Pier which served excellent breakfast and lunch at an affordable price, and we'd highly recommend swinging by if you're in the area.
and for dinner, you could go with The Fred St. Croix. They have an amazing fresh tuna steak!
Where to stay in Christiansted
The historic town of Christiansted is a must-see when you visit St. Croix. This charming town is filled with colorful buildings and cobblestone streets, and it's also home to several restaurants and shops, but don't
expect a major shopping experience.
We did not stay in Christiansted, but we visited the town 3 times, so we did get to know the town pretty well. If you'd like to stay in Christiansted, we'd suggest looking at Holger Danske – a 4-star rated hotel in downtown Christiansted. We also looked at Company House Hotel, which looks really nice and has great ratings.
We'd definitely suggest staying in town unless you have a car. Since public transportation is not really a thing in St. Croix, you'd end up spending way too much on cab fares.
Where to eat in Christiansted?
Christiansted is bigger than Frederikssted and offers more options for dining out. We can recommend the Coco Loco Bar and Grill STX – for local food and grill. We had the hotwings and clams, and both were really good! This restaurant is actually included in our video from Christiansted, so make sure to check it out!
We didn't have much luck with food in either of the cities and don't want to recommend places that we didn't really love. If you have any recommendations for either Frederiksted or Christiansted, make sure to leave a comment below so others can benefit from your experience.
If you're in the mood for a cheeky, local beer in the sun, check out STX: A micro-brewery where you can taste the local beer. I'm more of a standard pilsner girl myself (I know, how boring!) so I didn't really appreciate the local brew. But who know? Maybe you will! At the very least it's a great excuse to drink a beer. You know, the whole culture thing. You had to do it.
Good to know before you go to St. Croix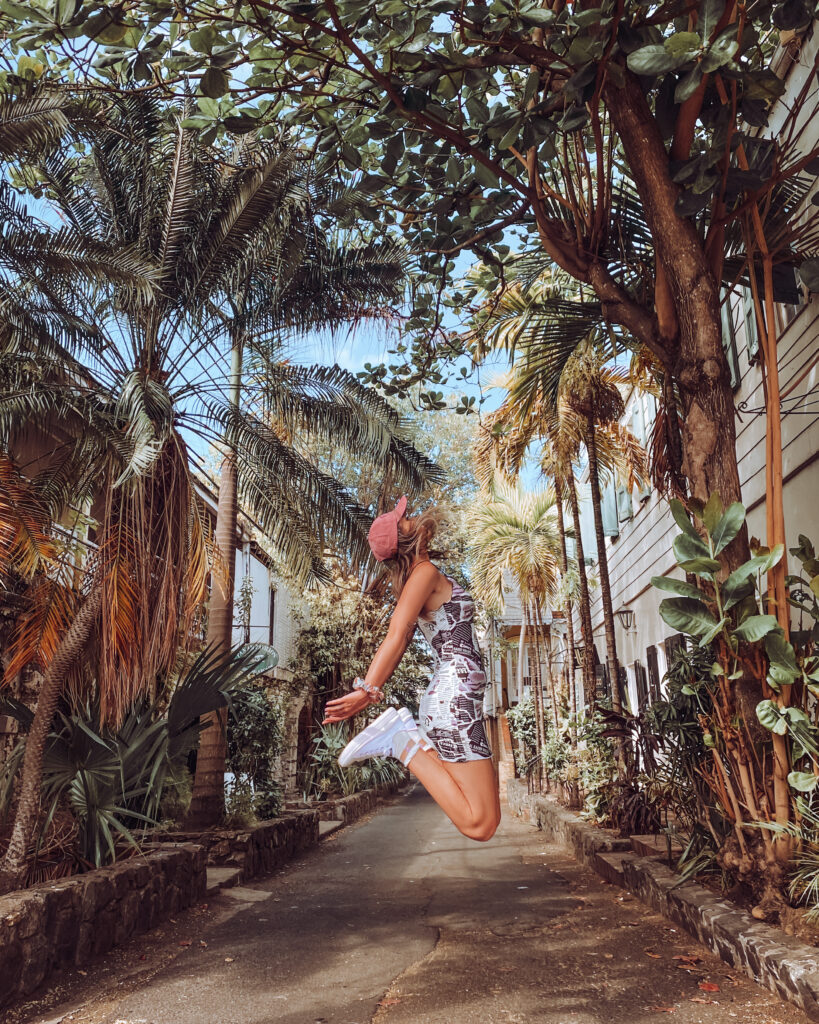 The weather on St. Croix
The thermometer shows perpetual summer in St. Croix, but it's not always sunny! The island experiences quite a bit of rain around the month of November. Rainfall is least likely in April which is when we visited the island, but we still had a few rainy days on our trip. Atlantic Hurricane season is officially June 1st through November 30th so if you're planning on going in the fall, you may want to reconsider. In general, St. Croix is nice all year round so just pick the season that suits you the best.
Car rental on St. Croix
Unless you want to stay in one place for the duration of your trip, you'll want to rent a car. St. Croix is the biggest of the US Virgin Islands, and you definitely can't rely on your bicycle or your legs to get you from A to B if you want to venture outside of towns and explore everything the island has to offer.
I'd say not having to worry about taxi pickups or costs is well worth the money you'll be paying for a rental car in St. Croix. Car rental is not that expensive, and you have many different options. Economy cars start from around 50 dollars a day. Depending on where you're staying you could get away with just renting a car for a few days.
Grocery shopping
If you're planning on staying in St. Croix for more than a few days, you may want to do some grocery shopping and cook some of your own meals to save a few bucks. Both Frederiksted or Christiansted have real grocery stores, but the larger ones are not within walking distance from the city center. There's a small convenience store in the center of Frederiksted where you can buy the essentials like only eggs, milk, bread, ketchup, and some canned foods, but don't expect a wide selection.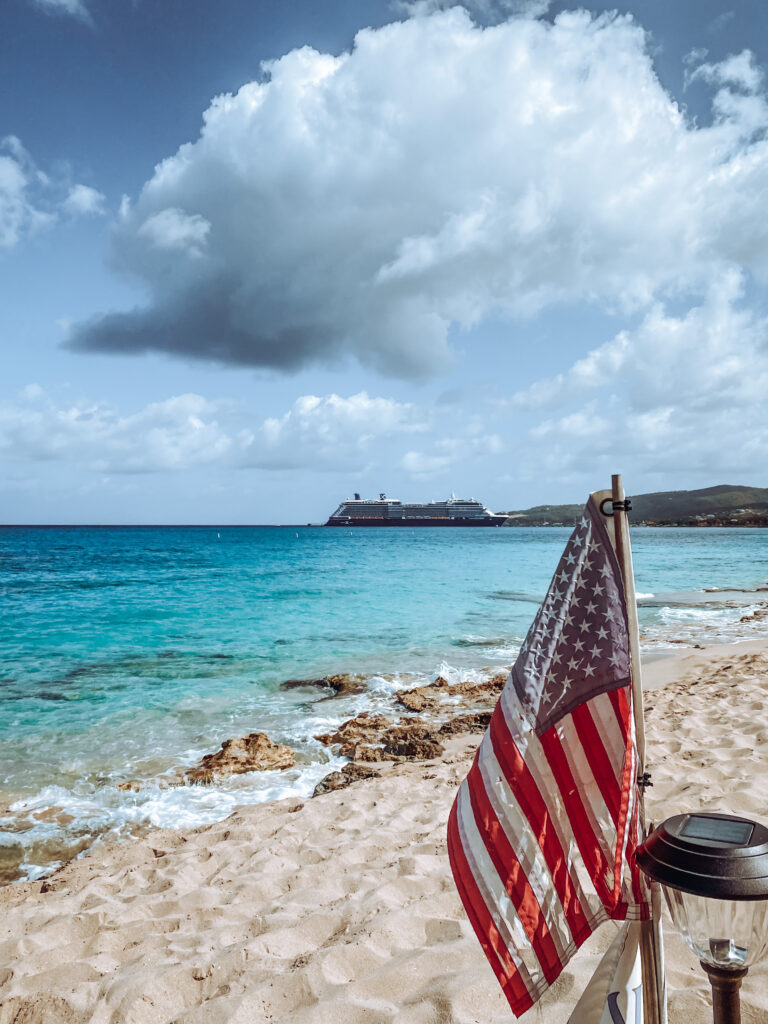 Cruise ships
When the cruise ships come to town, the cities can get a little busy and there will be a lot of people in the street. We didn't find it to be an issue, and we usually had the little streets of Frederiksted to ourselves.
St. Croix airport
The airport is tiny and very basic so be sure to eat in advance as you won't be able to find any food there except for a few snacks. There is a gift shop, but we'd recommend doing all of your souvenir shopping before going to the airport. Just to be on the safe side.
For arrivals, we recommend booking your driver/taxi in advance as it can get a bit hectic there with all the cabs.
Things to do on St. Croix
Mount Washington Estate Plantation
Mount Washington Estate was one of the original Danish estates built on St. Croix. It's the best-preserved sugar plantation on the island and welcomes visitors to explore the grounds on self-guided tours. One of the most exciting features of the Mount Washington Estate is the historic sugar mill and rum distillery. Today, visitors can learn about the history of sugar production on St. Croix and see the machinery used in the process.
From 1780 to 1820, St. Croix was the second-largest sugar producer in the West Indies. Back
then, when "sugar was king", St. Croix was known as the garden of the West Indies, and if you drive around on the island today, you will see dozens of old sugar mills constructed under Danish rule between 1750 and 1800.
I'd say you'd need about an hour or so to explore the area and bring water because you can't buy
anything there.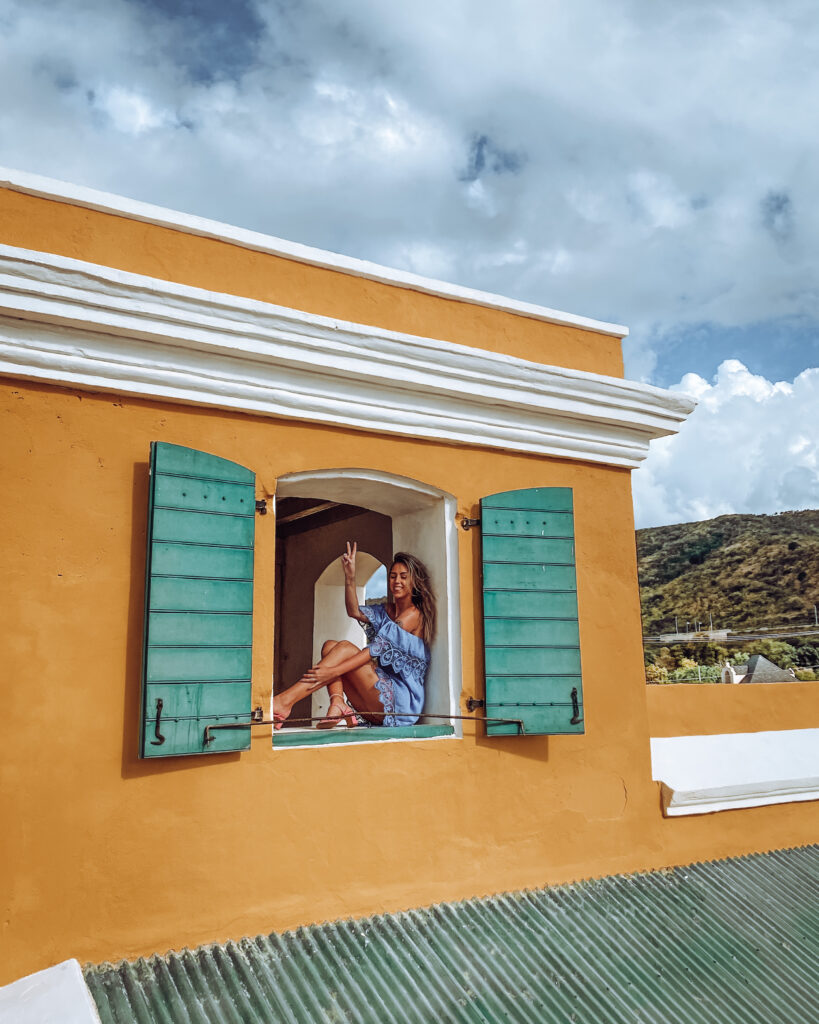 Visit Fort Christiansvaern
One of the highlights of Christiansted is Fort Christiansvaern, a well-preserved 18th-century fort that
offers stunning views of the town and the surrounding area.
The fort is a reminder of the island's
Danish colonial history and an important part of St. Croix's cultural heritage.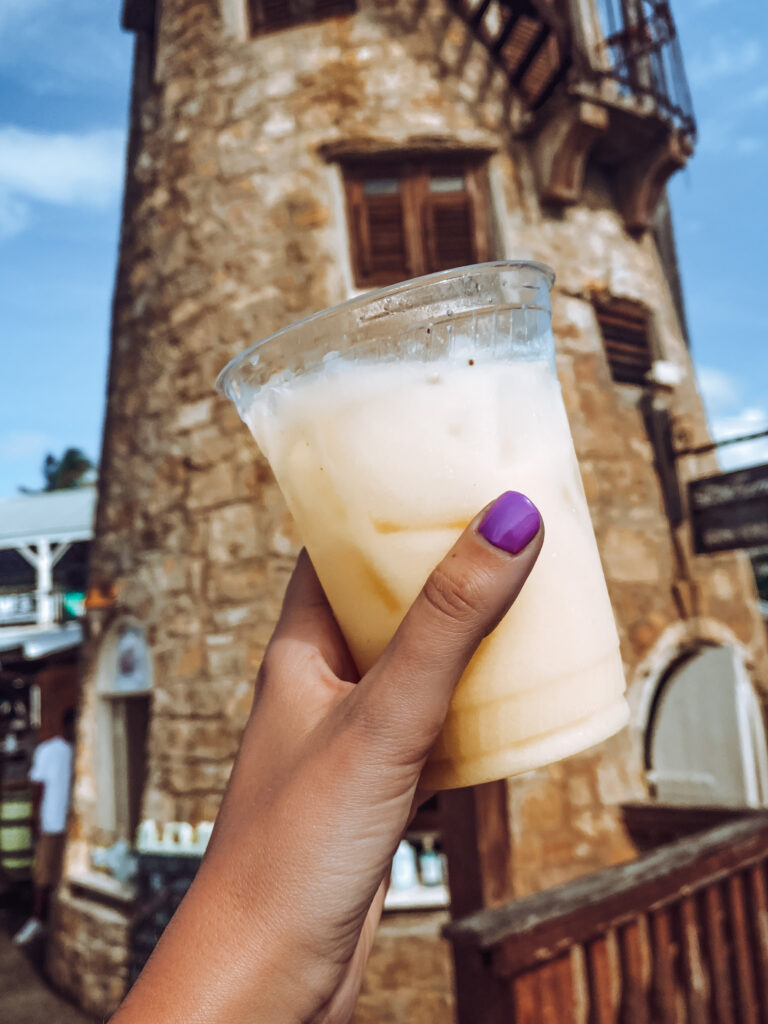 Cruzan Rum Distillery
Another popular attraction on the island is the Cruzan Rum Distillery. Here, you can take a tour and learn about the history of rum-making on the island as well as sample some of the delicious rum produced here.
We visited the old sugar mill bar on the boardwalk of Christiansted where they serve the rum, and we enjoyed it big time!
Did you know that Captain Morgan has their production on St. Croix and you can go visit it? It's located in the middle of the island in Anneberg, and you can book a tour via their website.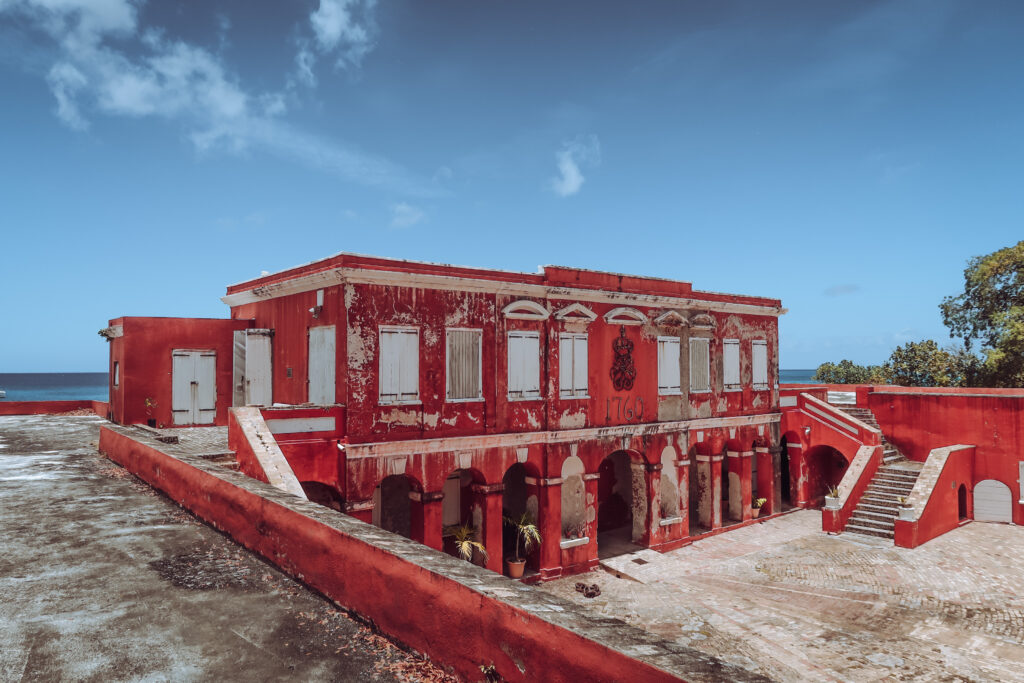 Beautiful Fort Frederik
Fort Frederik is one of the island's two forts, and it's my favorite of the two. The fort was built by Denmark between 1752 and 1760 to defend the economic interests of the port and to ward off pirates of the Caribbean. Movie title alert. The fort (and the town) was named in honor of the Danish King Frederik V. We definitely recommend making your way by this fort and experiencing its beautiful surroundings and interesting history up close. The bright red color of the fort and the great overview of the old harbor makes it one of the most picturesque places on St. Croix. So stunning and definitely a must-see!
Scuba diving and snorkeling
St. Croix also has several great activities and adventures to offer. You can go hiking and explore the island's lush forests, go scuba diving and see the colorful marine life, or take a boat tour and see the island from a different perspective. Overall, St. Croix is an amazing destination that has something for everyone. Whether you're looking for relaxation or excitement, history or culture, there's something on this island that will make your trip unforgettable.
We booked our diving session through the local diving store in Frederiksted: Cane Bay Dive Shop, they had a team integrated with the shop. The only thing to be aware of is that the boat leaves from Christiansted instead of Frederiksted, and you'll have to make your own way across the island if you're not staying in Christiansted.
Isaac's Beach
Of course, no trip to St. Croix would be complete without spending some time on its beautiful beaches. The island has many great beaches to choose from, each with its own unique charm. Whether you want to go snorkeling, sunbathe, or relax with a book, there's a beach on St. Croix for you.
Westend Beach, also known as Isaac's Bay Beach, is a beautiful stretch of white sandy beach located a short distance South of Frederiksted. This beach is popular for swimming, sunbathing, and snorkeling.
Sandy Point Beach
We wanted to visit Sandy Point Beach but couldn't go there because the whole area was closed from April to October to give the sea turtles their privacy. I hope they enjoyed the beach. It looks amazing.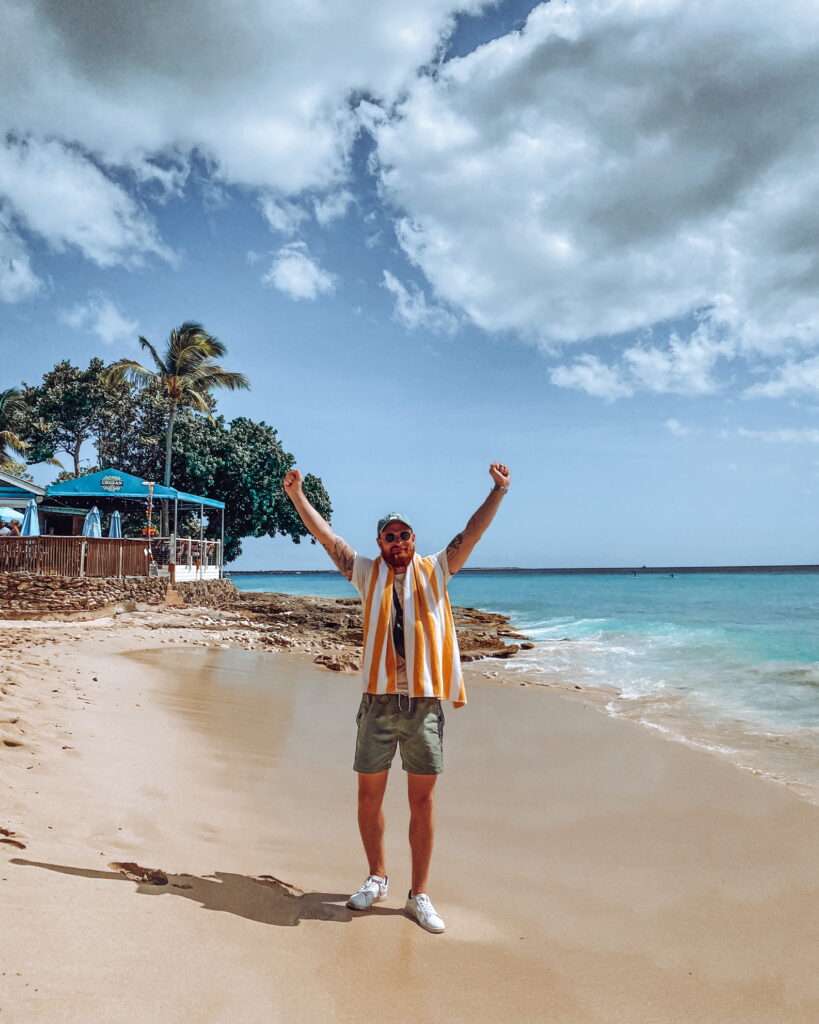 Rainbow Beach
Rainbow Beach, located about a kilometer North of Frederiksted, is a popular destination for beachgoers. This beach gets its name from the rainbow-colored rocks that can be found in the area, but I don't
remember seeing any of those. It was beautiful though and worth a visit if you're in the Frederiksted area.
There is also a great bar/café on the beach, where you can get food and cold drinks if you plan to stay here for the day.
⇢ Subscribe for ⇢
more videos — https://youtube.com/holetsgo
⤈ PIN THIS ARTICLE ⤈