If you haven't seen the Dalawella Beach Swing – you probably don't have an internet connection. In which case, congratulations on finding your way on here anyway! Okay, all kidding aside, the Dalawella Beach Swing is probably one of the most iconic Instagram spots in all of Sri Lanka, and it was one if the places I really wanted to swing by (see what I did there…) when we were staying on the South coast of Sri Lanka.
We stayed in Dalawella for about a week, and we kept extending our stay there to hopefully wait out all the rain and bad weather we were having, but it just wasn't happening – hence the very dark clouds and gloomy skies.
WHAT NO ONE TELLS YOU ABOUT SRI LANKAN BEACH SWINGS
There are a bunch of cool beach swings in Sri Lanka, but what most people don't tell you is that there's really no such thing as a free swing in Sri Lanka. Thailand, yes. Sri Lanka, forget it. Those beautiful Instagram photos of paradise beaches and nature swings – they always include one or two locals and a little wooden sign displaying the price. I understand they want to make money, but it definitely takes a lot away from the experience that someone is constantly watching you, so don't go there expecting a chilled paradise experience.
THE DALAWELLA BEACH SWING
But that said – the Dalawella Beach Swing is definitely not only really pretty, it's also really fun. You have to climb up on to the palm tree to get a good swing, and it can definitely be a little (okay, more than a little scary), but the perk of you paying to use the swing is that the guy in charge of the swing will help you climb up if you're not naturally Tarzan. Which, as it turned out, Mathias was. Me? Not so much. There was a little screaming involved. And as you can see in the video, I wasn't very graceful trying to climb up there.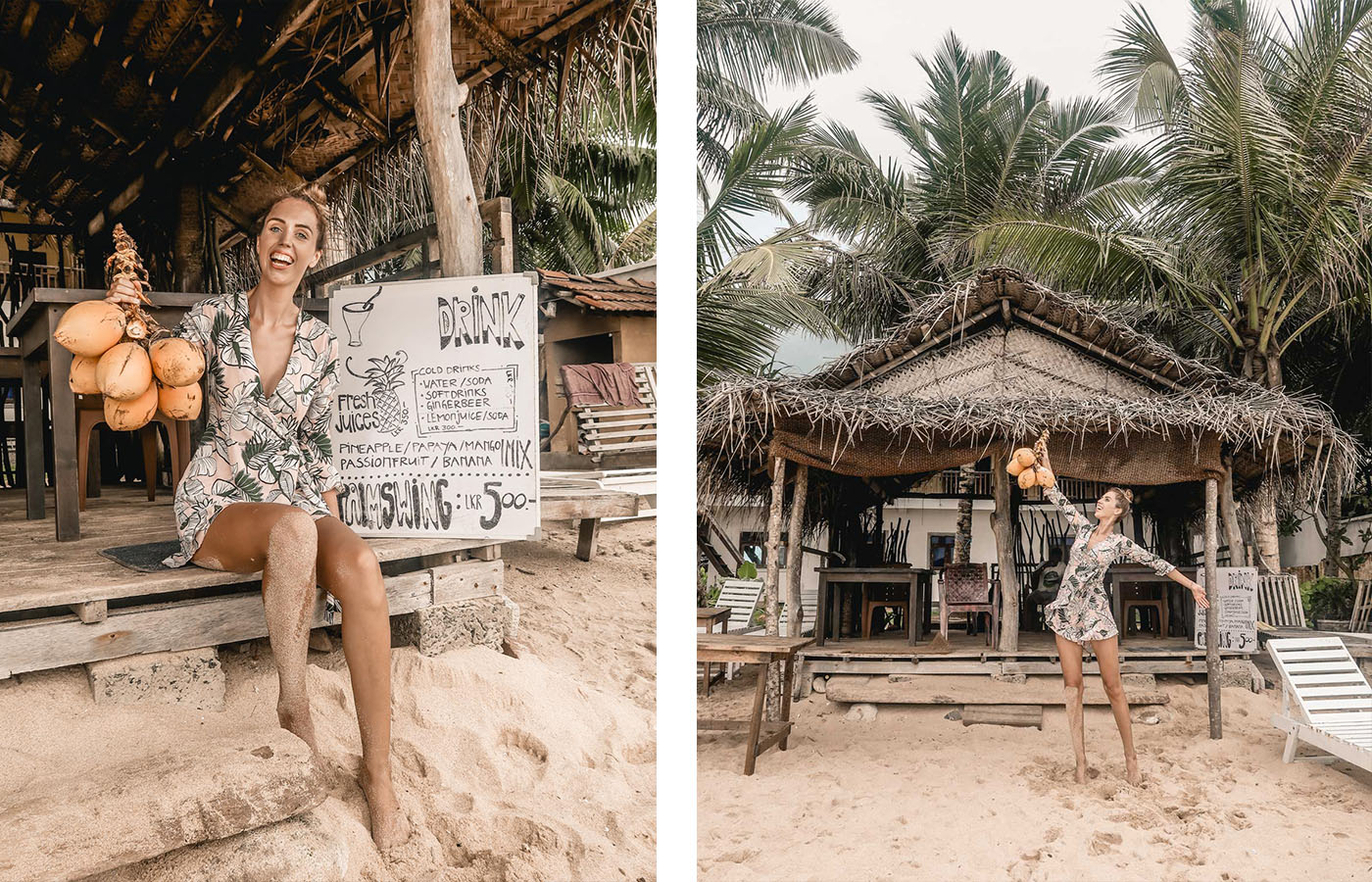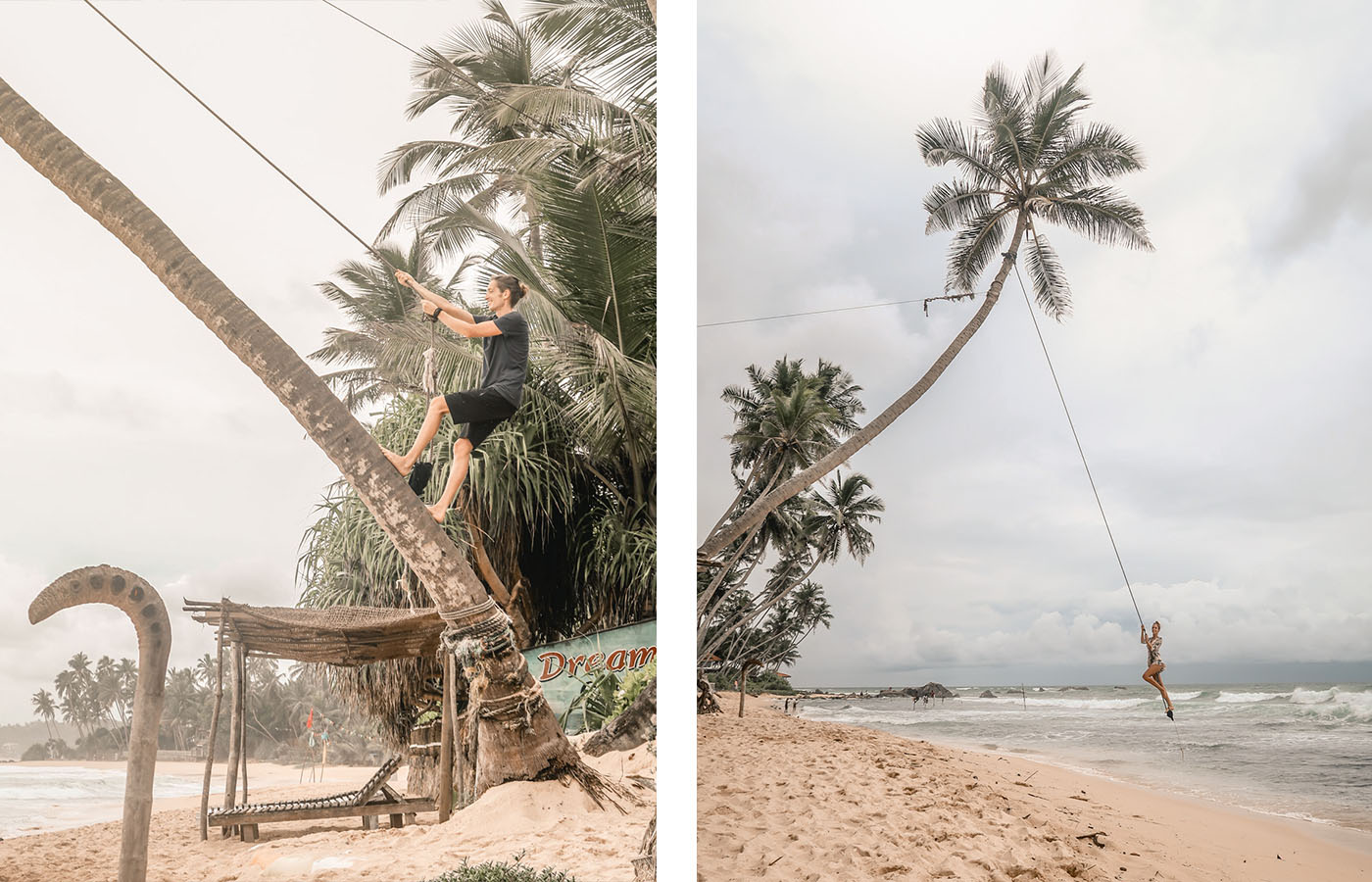 HOW TO FIND THE DALAWELLA BEACH SWING
We had a little trouble finding the Dalawella Beach Swing, because Google Maps showed us another part of Dalawella Beach, but we found it at last, and it actually belongs to a little hotel called Dream Cabana, which you can easily find on Google Maps. To use the swing, you have to pay 500 rupees per person (approx. 3.5 USD), which is definitely expensive for Sri Lanka, but you can use it as long as you want.
TAKING PICTURES ON DALAWELLA BEACH
It's very well-visited so if the weather is nice, there may be some people waiting. If you're not in a hurry, you can just grab a drink and relax in the little beach hut or spend a couple of hours relaxing on the beautiful beach. I wish we'd had some better weather so the pictures were a little more paradise-y, but we waited for a week, and the sun just didn't show so we finally decided to just enjoy ourselves in the drizzle and watch the storm roll in. After taking these photos, we had to run back to our room because it started raining like crazy.
Also go check out another great place at Sri Lanka – The Dondra Lighthouse!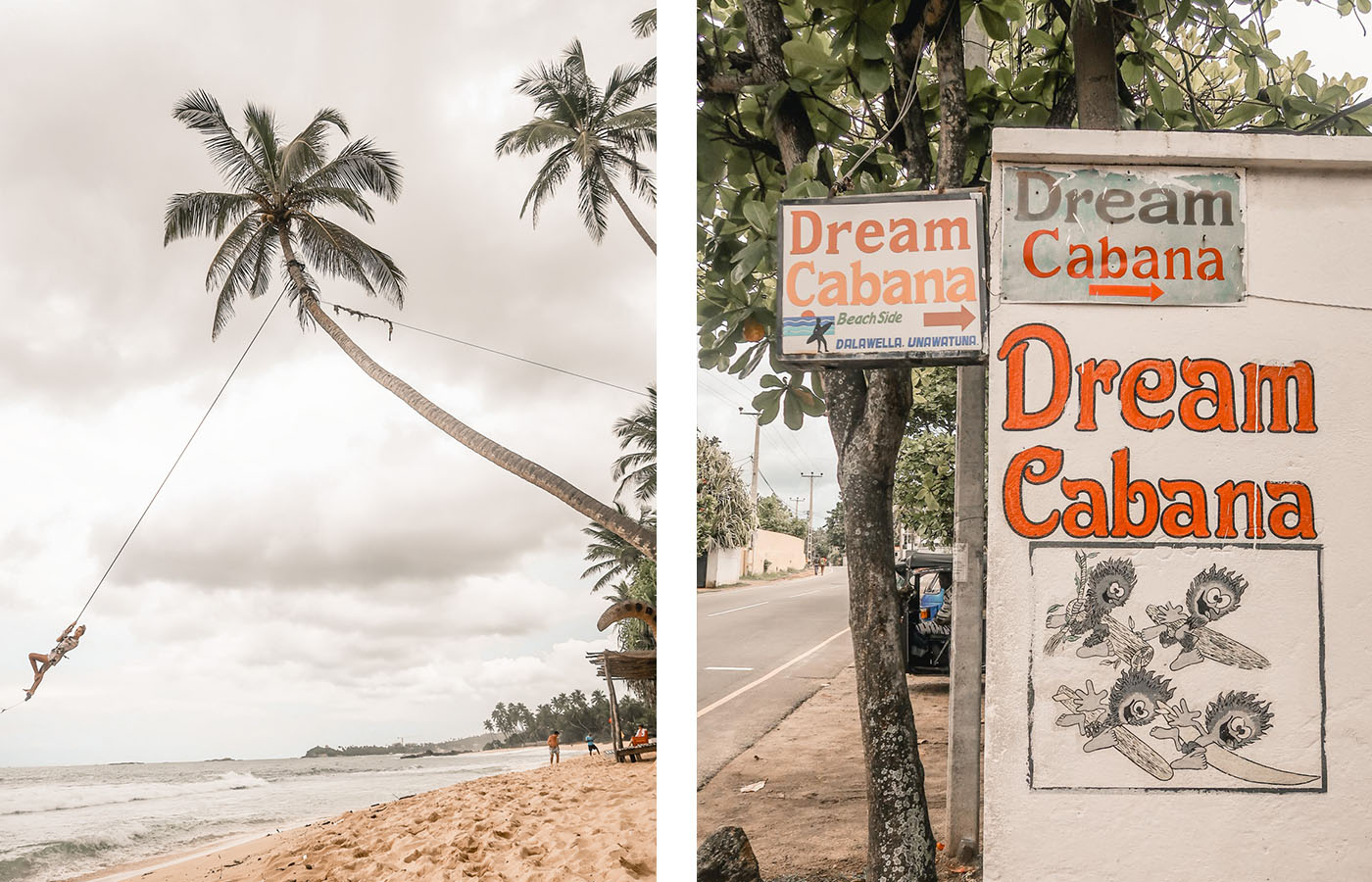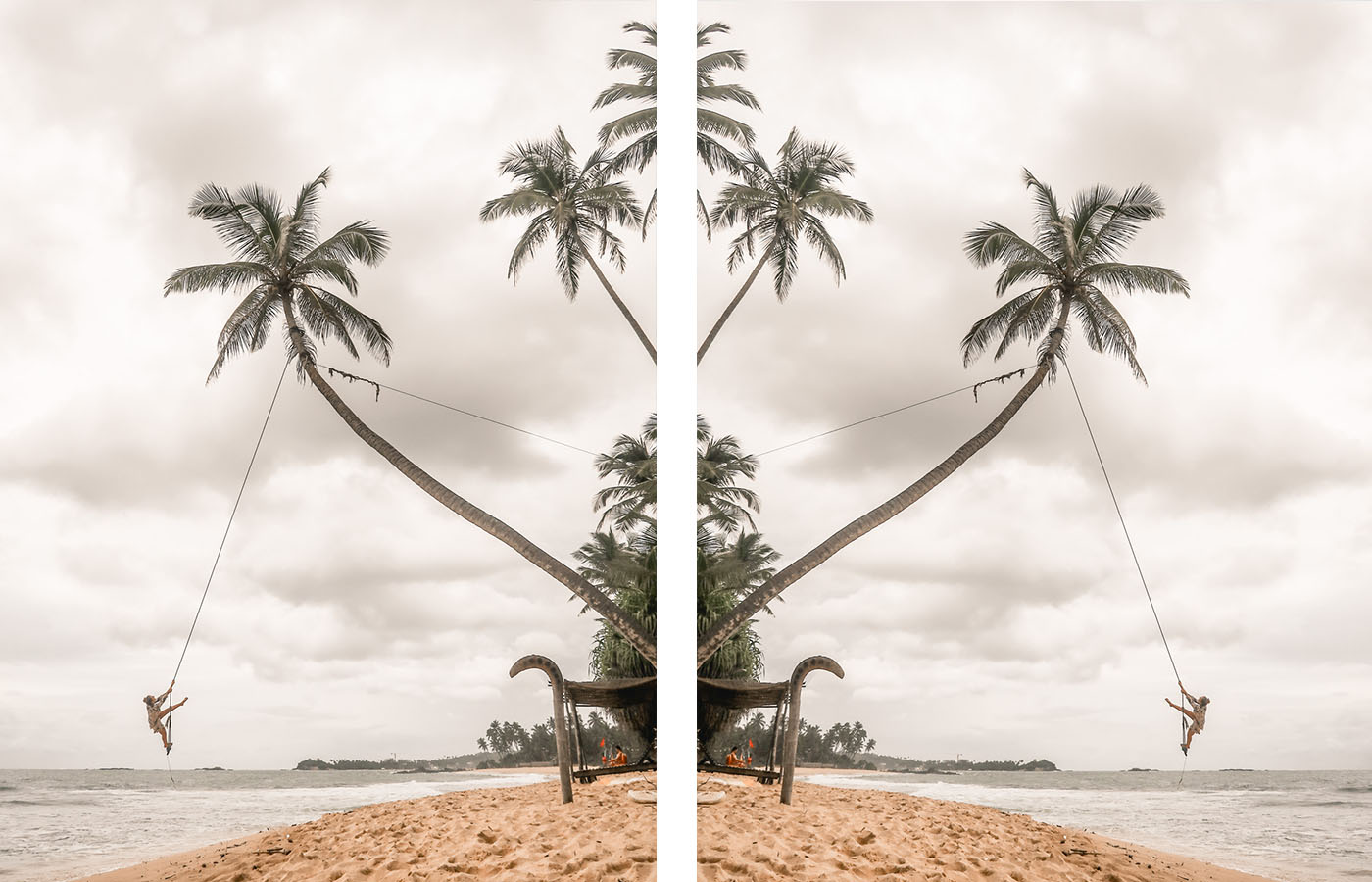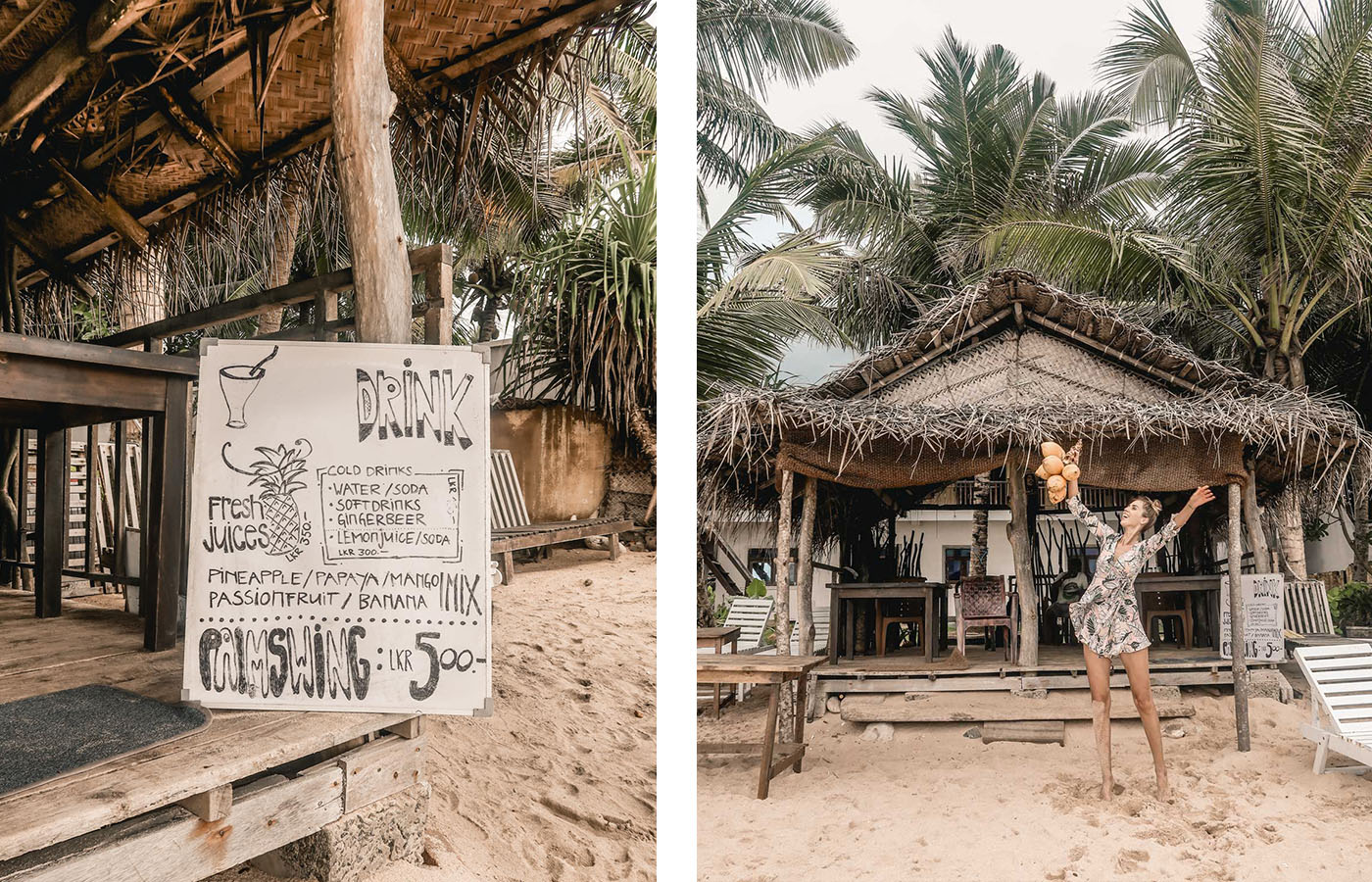 ⤈ PIN THIS ARTICLE ⤈