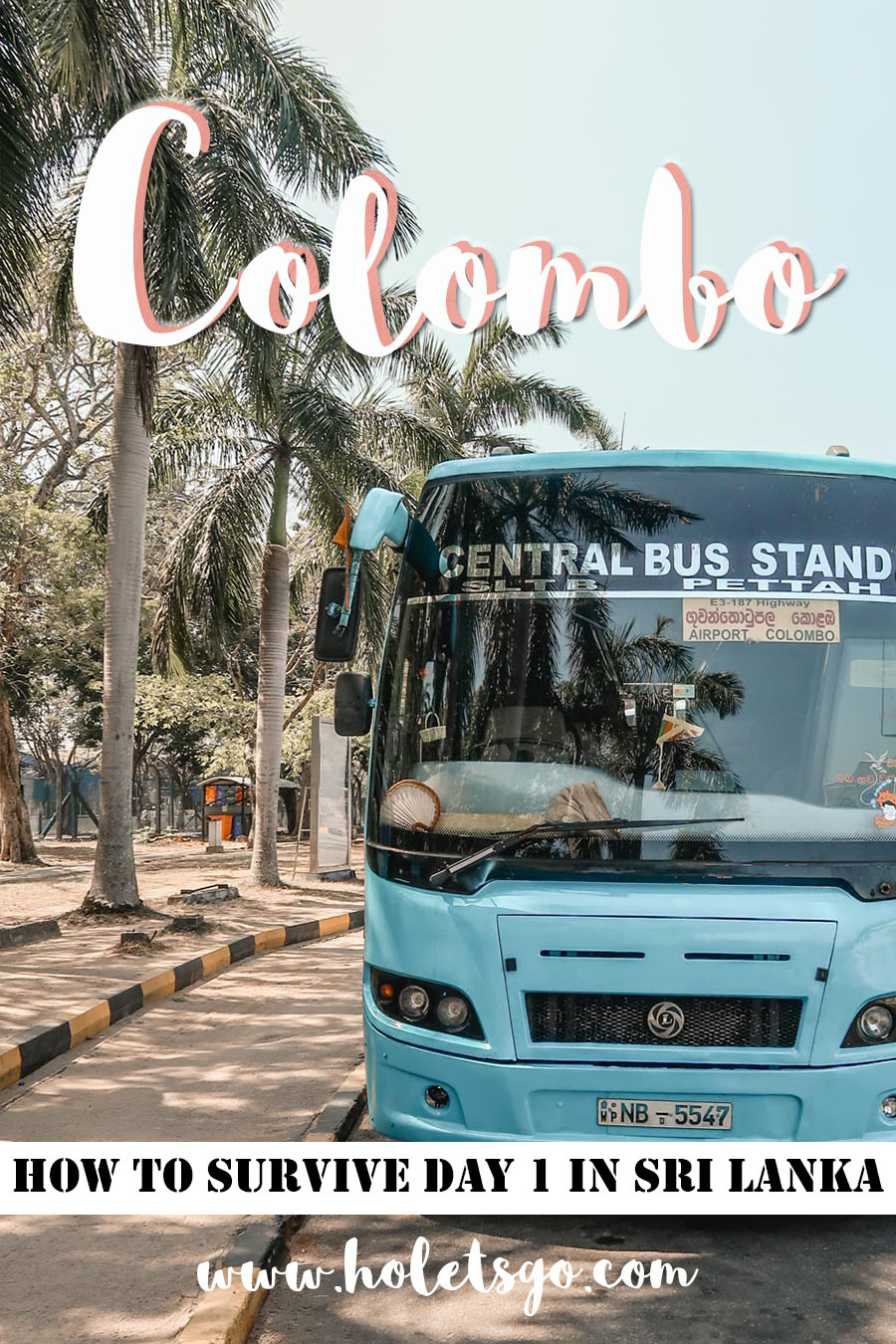 Arriving in a new country is always magical and wonderful – and sometimes also a wee bit stressful. Especially if you're traveling on a budget and don't have a private driver waiting for you with a sign and a bottle of water. Actually, I have no idea if the drivers have water. We're still battling busses and aggressive taxi drivers.
Arriving in Sri Lanka was amazing. We flew in from Bangkok and therefore we flew over the country before landing in Colombo. The view from the plane window was out of this world beautiful and got us so excited for our two months in Sri Lanka.
GETTING THROUGH IMMIGRATION IN COLOMBO
When we landed, there was a long line in immigration – and then I had to pee. This is relevant because that was when I realised that there were a bunch of other immigration counters to the left of where everyone was waiting in line. And there were no lines. We just walked right up and through immigration, and it literally took two minutes.
On the other side of the counters, we saw the first weird thing in Sri Lanka. Apparently, they sell washers and dryers at the airport. So if that's something you want to travel with, you can pick it up the second you've picked up your luggage.
WITHDRAWING OR EXCHANGING MONEY
As always, the first thing we wanted to do was to get our hands on some cash. Cash is king in Sri Lanka and in many other Asian contries, and chances are you'll have to either exchange money or find an ATM before you leave the airport. There was only one ATM in the airport, and we talked to a couple of other travellers who had had to wait in line for 45 minutes to withdraw some rupees. That's when we decided to find an exchange instead and then find an ATM at some other point. If you don't want to start your Sri Lanka trip by standing in an endless line for the ATM, remember to bring some cash. We exchanged Thai Baht because we had just gotten the deposit from our apartment back, but we usually carry a couple of 100 USD just to be safe.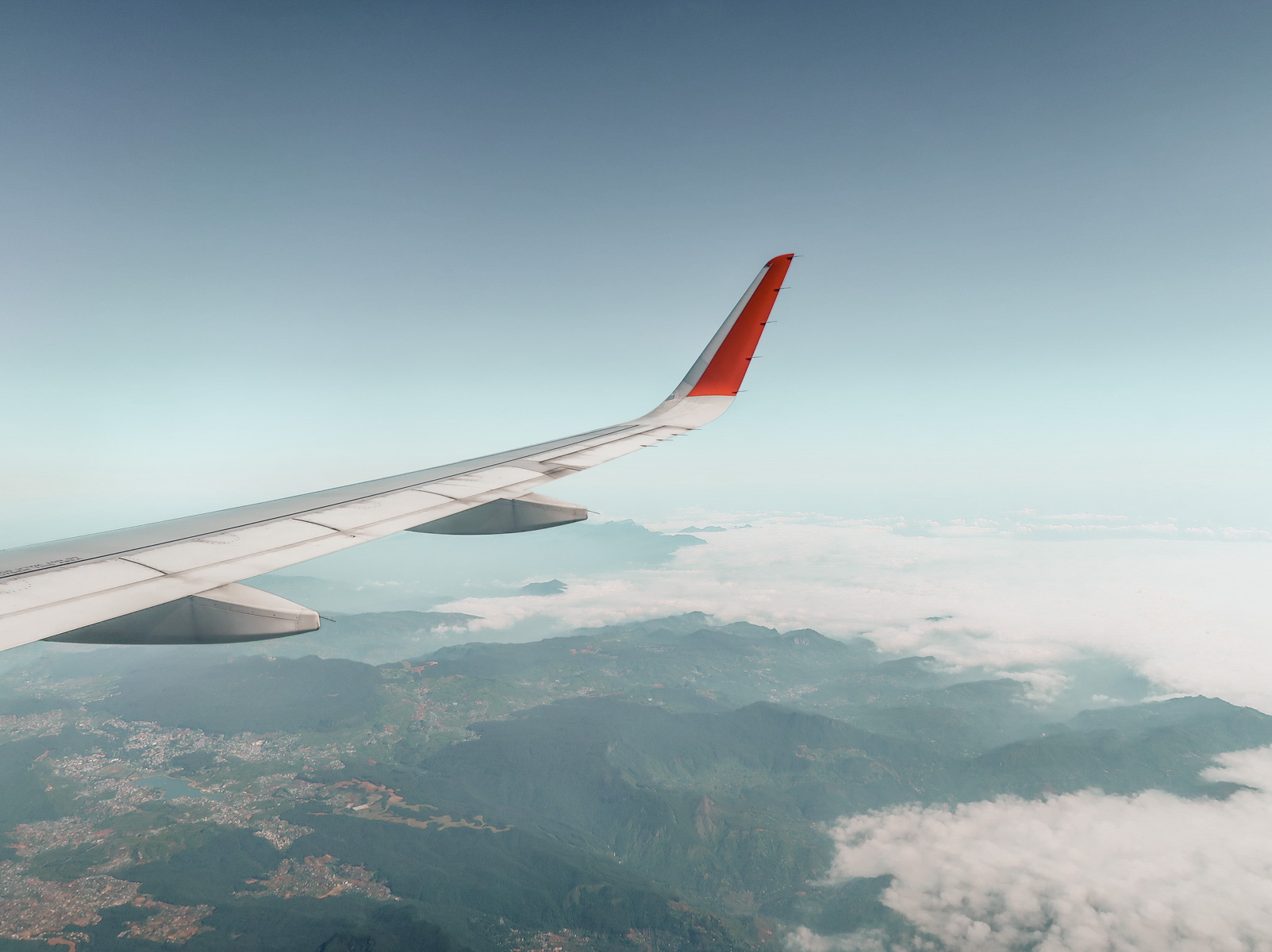 GETTING A SIM-CARD IN COLOMBO AIRPORT
20.000 rupees later, we wanted to get a sim card. There are quite a few mobile phone providers in Sri Lanka, but we queued up for Mobitel and Dialog – two of the biggest and best companies. After the first month, we ditched our Mobitel sim-card and used Dialog and Airtel because they were both cheaper and better. Expect to pay about 1500-2000 for a mobile plan. It's easy and quick, and we definitely recommend having at least few gigabytes of data. The wifi in Sri Lanka is unstable at best.
AVOIDING THE TAXI DRIVERS
Because we had to get our visas extended for our two month stay in Sri Lanka, we started out with three days in Colombo. Getting from Colombo airport and into the city was actually really easy, but it got a little bit stressful in the airport. Cab drivers are not always the most friendly (or the most honest) people, and they tried telling us that it would take us two hours to take the bus in to the city from Colombo Airport.
I'd researched it in advance, and I was pretty certain they were lying, but they were very convincing. They wanted 3.500 rupees (≈ 23 USD), which we were not willing to pay, and we didn't even try haggling because we knew there was a bus.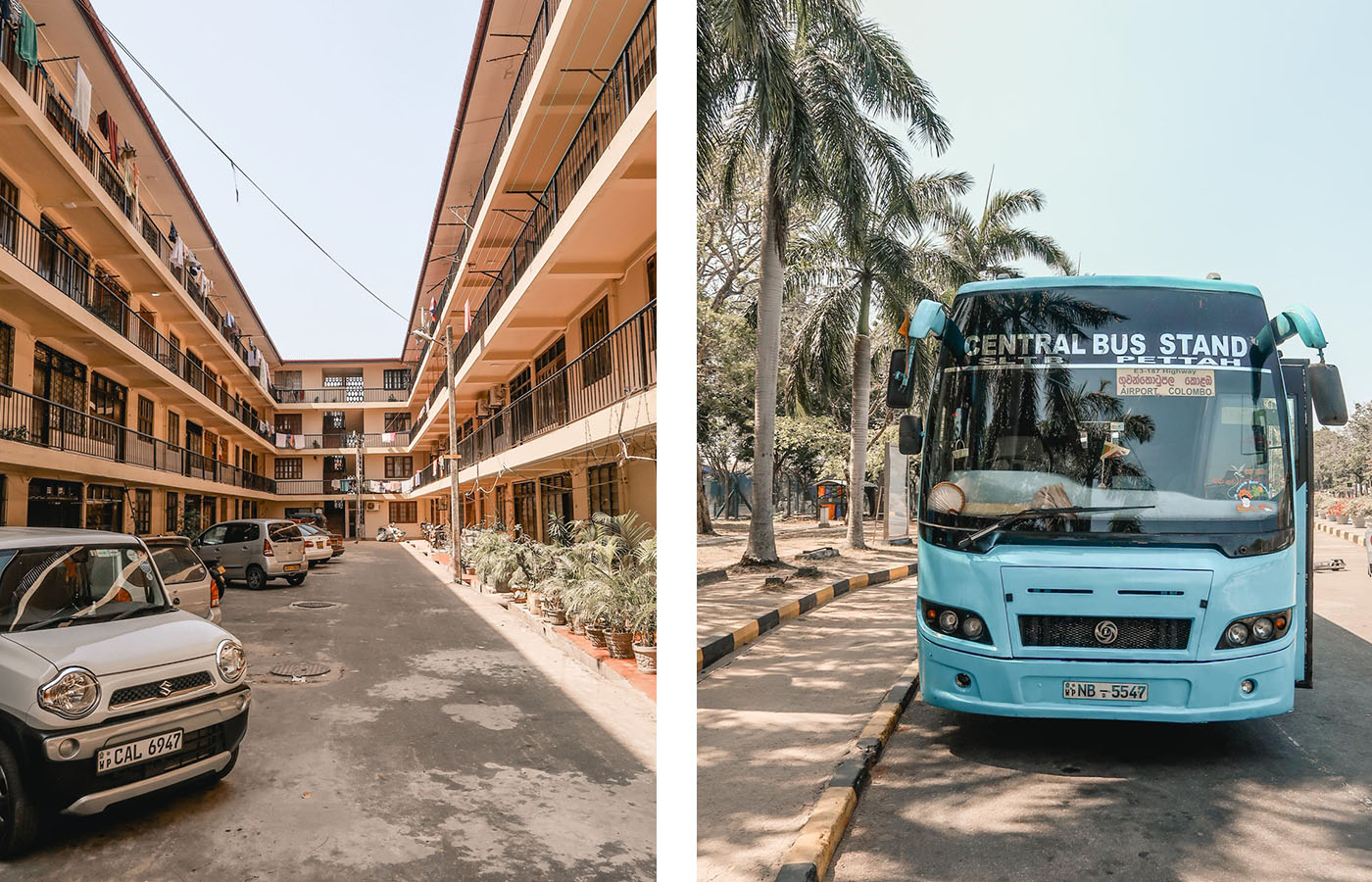 GETTING THE BUS FROM THE AIRPORT TO COLOMBO
We walked out of the airport on the left side of the arrival hall and followed a small path for a few metres. On our left there was a parking lot filled with busses, and we had no idea which one was ours, so we asked one of the drivers – a very friendly guy who told us that our bus was to the right when you come out from the airport. Not to the left with all the other busses. Fortunately it was only about 100 metres away, and I've made sure to include a picture of it so you know what to look for if you're going to Colombo. Make sure to also check out the video for more details.
We told the driver that we wanted to go to Colombo, and we put our luggage in the room under the bus. We made sure to take our valuables inside with us. A few minutes before departure, a guy walked through the bus collecting payments, and we paid 130 rupees per person, which is just shy of one dollar. The drive was very pleasant and took 40 minutes.
GETTING A TUKTUK TO YOUR HOTEL OR TO THE TRAIN STATION
The bus station in Colombo is very hectic and chaotic, and you can be sure that the tuktuk drivers will approach you and quote you some insane prices because you look confused and tired. Our Airbnb host told us how many of his guests had ended up paying 10 times the normal rate because they hadn't researched the prices in advance.
We managed to get our tuktuk driver down from 1800 to 350. It sounds like we're the best hagglers in the world, but the reality is that the trip would've cost about 300 rupees in a metered tuktuk. It was still fine, and a lot of drivers laughed at us and walked away when we told them how much (little) we were willing to pay. But the good thing about Sri Lanka is that there's always another tuktuk. If you're really good, you get a metered one and pay about 40-50 rupees per kilometer. That's usually no problem, but if you're standing between all the busses with a tonne of luggage looking confused, the drivers will most likely try to rip you off.
The train station – Fort Railway Station – is very close to the bus station, but if it's your first day in the country, and you're carrying a lot of luggage, you may want to save yourself the hassle and pay for a tuktuk to take you there. Expect to pay about 100 rupees.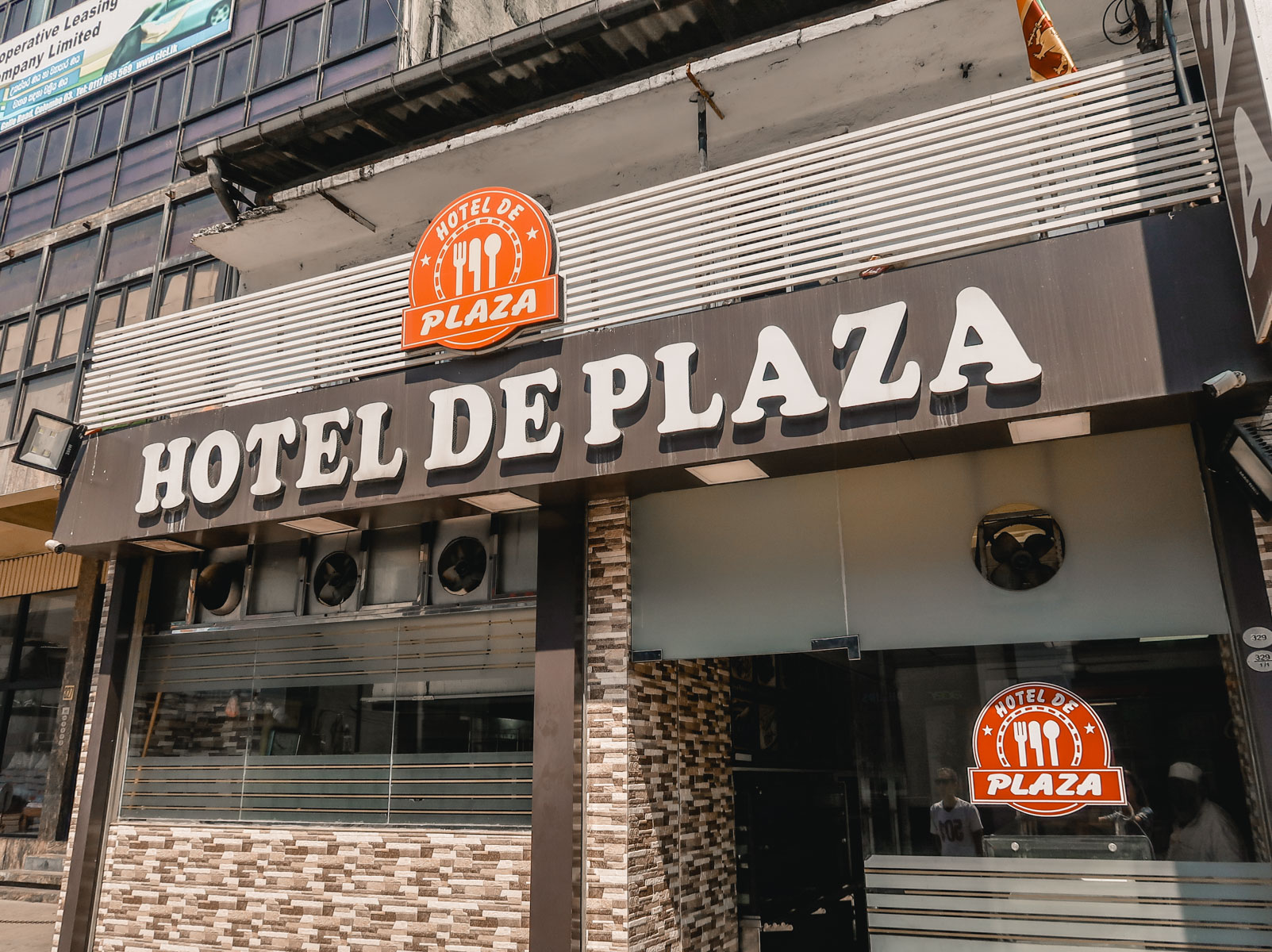 GO GET YOURSELF A KOTTU AND AN ICED MILO
When you've survived your first couple of hours in Sri Lanka and have made it safely into Colombo, you can really start enjoying your trip. Sri Lanka is wonderful, and there are so many amazing experiences waiting for you. Our host recommended a little restaurant called Hotel de Plaza where he and his friends went all the time. "Get a kottu and an iced Milo", he said, "we always do that". So of course that's what we did. The food was good, and the iced milo was sweet and something you'd expect a small child to drink (a very sugary cacao drink), but it was the perfect beginning. After that, we settled in to our room, and then we went out to catch the sunset from Amazing Galle Face Green. Make sure to watch the video to see what we got up to on our first day in Sri Lanka.
⤈ PIN THIS ARTICLE ⤈